The Smart Person's Guide to Building your own Home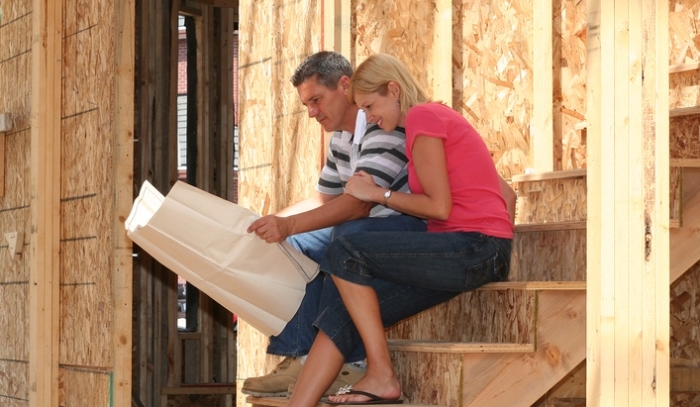 Building your own house offers opportunities undreamt of by most homebuyers. It gives you the ability to control and customize every aspect of the process, tailoring it to your exact goals, dreams, and tastes. When all is said and done, you will have a sanctuary from the world that is truly yours in every sense of the word. And, with today's home construction loans, you can accomplish this goal for about as much as you would pay for an existing home.
At the same time, constructing your own house from scratch is much different than shopping for an existing residence. It means taking responsibility for all aspects of the design and construction process, including lot selection, site plans, dealing with contractors, and making crucial decisions at every phase. It's not a job for the faint of heart.
In this article, we break down the major steps involved in the house building process. The idea is to give you a taste of what this option entails; equipping you with the facts you need to make an informed decision. Ready? Let the adventure begin.
It All Starts with Dreams
Before you do anything else, take the time to list all the things you want from your new home. Don't be afraid to dream a little, but temper your expectations with realism. For example, you may dream of having a giant showplace with half a dozen bedrooms and seven baths. But, unless you can afford maids, housekeepers, and the actual mortgage, you'll need to qualify for the loan amount and be the one cleaning all that space. In the same way, you may love the idea of having multiple stories - at least at this point in your life. But how will you feel about all that stair climbing after you've gotten up in years a bit?
The idea is to think about your needs not only in the near future but down the road. After all, you'll be living in your new home for quite a while. So make sure it will have what you need from a residence as you go through the many changes life brings.
Location, Location, Location
The one thing every home must have is a piece of land on which to rest. Some people crave a 50-acre spread in the country. Others are content with a quarter acre lot in the suburbs, and yet others will buy a small, neglected house in a great neighborhood and demolish it. Whatever choice works for you is fine, so long as you consider issues like neighborhood, schools, proximity to shopping, drainage, sun exposure, prevailing winds, and similar factors.
It's a good idea to visit the property at night and on a rainy day, not just when the sun is out. That way you'll have a feel for what it's like living in the area during inclement weather. Also, if there are any problems that will require major landscaping, this will become evident during a downpour.
Never Fail to Plan
When it comes to choosing a layout for your home, the most popular options are either to buy a set of plans or consult with a licensed residential architect. In most cases, choosing an existing blueprint will give you everything you're looking for while saving you money. However, if you want to create something that's truly one-of-a-kind, then you'll need the services of a trained expert.
Money Matters, Always
Maybe you're one of the handful of people who have all the money you need for your new home set aside. If that's you, then congratulations on your good fortune. On the other hand, if you're like most of us, then you'll need financing for at least part of the expense.
Be aware that home construction loans work differently than standard mortgages. Construction to permeant loans will finance the down payment, soft costs of construction, hard costs of construction as well as the final take out mortgage all wrapped in one which offers a great deal of flexibility, cost savings and peace of mind.
Choosing Contractors
This is perhaps the most important of all the steps discussed in this article. Select an able, ethical company and your reward will be a residence that you'll be proud to call home. Being careless or hasty with this decision, however, could lead to big trouble down the road.
So don't be afraid to ask tough questions of the businesses you consider. Make sure they have all the required licenses and insurance for your state. Ask for references from past clients, and call those references. Consult your local business council or trade organization to make sure the contractor is a member. You can even visit the Better Business Bureau website, which has reviews of hundreds of thousands of companies across the nation.
Keeping an Eye on Things
You have a right and the obligation to monitor the building progress of your new home. Ask your contractor to give you regular status updates, make sure the inspection process occurs smoothly, and visit the site from time to time just to get a feel for how things are going. Remember, you're the one who has to live the thing once it's done. So don't hesitate to keep an eye on the project.
Once your new home is complete, you can kick back, relax, and pat yourself on the back for what you've accomplished. Following the tips in this article will not only help you to get to that point, it will ensure that you're happy with the results for many years to come. Good luck and happy homebuilding!