Construction to Permanent Loans for Residential Properties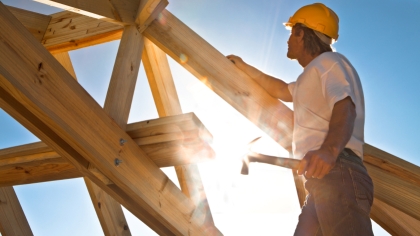 Available for New Homes, Remodeling, Lot Purchase, and Permanent Financing
Use it to build a new home, remodel an existing one, or buy and build on a lot —and keep it long term.
Two options are available; a stand-alone Home Construction Loan or a Construction to Permanent Loan.
The latter is a simple financing solution because it gets you from purchase or refinance to the construction phase and interest reserve to long-term financing with just one loan.
You qualify for the loan up front, lock in your permanent interest rate, sign a single set of loan documents, get up to a year (or longer) to complete your construction project, and you don't have to revisit the financing or appraisal when you're done.
First, we'll cover the stand-alone variety.
How Do Construction Loans Work?
Your home's Future Value Appraisal combined with Loan to Cost Ratio determines the loan amount.
These are short term, normally 6-18 month term, simple interest loans.
A disbursement schedule is established according to which the lender pays for each completed stage of the construction after an inspection and title update.
During construction, you are charged interest only on the amount actually drawn.
In some cases, the lender may establish an escrow account and fund the entire loan amount in which case you'll be charged interest on the entire loan amount during construction.
Once the project is completed, you refinance the property with a permanent loan to pay off the construction loan and any other existing liens
The above traditional approach to residential construction loans was the only option available until the advent of the Construction to Permanent Loans.
How Do Construction to Permanent Loans Work?
This loan wraps your existing loan or purchase financing, soft and hard costs of construction, interest reserve and permanent (take out) loan all in one.
You sign one set of loan documents and don't worry about payments during construction or the future financing of the completed project.
The combination of your home's Future Value Appraisal and Loan to Cost Ratio determine the loan amount.
The initial disbursement pays off any existing liens (like your current mortgage if you're remodeling or your lot loan) or pays your down payment if it's a new purchase.
During construction, you're only charged interest on the amount that's been disbursed, but those interest payments come out of a reserve account on the loan, not your pocket.
Once the project is finished, the permanent loan begins, and you pay it just like any other mortgage.
Loan limits can range up to $3,000,000 and up to 90% of the future value of the home.
The Process
A construction to permanent loan works for building or remodeling a primary residence or second home, purchasing raw developed or undeveloped land to build a new home, or buying and partially or completely demolishing and rebuilding an existing house.
If you already own the home you want to demolish, or the land you want to build on the loan will pay off your existing mortgages as well as covering the soft and hard costs of construction, interest reserves and contingency reserves of the new home.
At closing, the first disbursement covers the old mortgages or down payment and closing costs.
The rest of the funds are disbursed at predetermined intervals and amounts based on the construction budget and timeline from your contractor.
At the end of each stage of construction, the lender inspects the progress, the title company updates the title report to check for liens, and then the disbursement check is issued.
Importantly, each disbursement is a reimbursement for funds already spent, meaning that the contractor or you have to have enough resources to float the costs during each disbursement period.
You, as the homeowner, must have a clear understanding with your contractor of who is paying for what or else you are likely to end up with misunderstandings and delays, which turn into cost overruns.
Lenders hold the final 10% of the funds until the final inspections are complete and an occupancy permit has been issued.
Only Pay for One Home at a Time
You will need to continue living in your existing property until your new home is ready to be occupied, and most people don't qualify for two consecutive housing expenses.
Construction to Permanent financing solves that problem by setting up an interest reserve account that is included in the loan. During the course of construction, interest-only payments are calculated based on the amount actually drawn and charged against the interest reserve, reliving you of monthly payments for the new home during construction.
Depending on real estate market conditions, your current home can be listed for sale and timed to close as the new home is ready to occupy.
How Does a Future Value Appraisal Work?
The appraiser uses the proposed home's architectural plans in conjunction with the Cost of Construction Breakdown and the Materials List to find similar comparable sales in the area to determine the Future Value of the home to be built.
Some types of construction, such as Manufactured and Log Homes, present a challenge in that similar houses should be present in the area and at least one recent closed sale must be available to be included in the comparable sales.
Modular and Panelized Homes can readily be appraised using any similar size and quality of homes sold recently in the area without any restrictions.
Cash Reserves
A construction loan is a reimbursement loan, in that no funds are advanced to the borrower but rather reimbursed as each stage of construction is completed and signed off by the building inspectors and the lender's inspector, and the title is updated by the title company. These staged reimbursements are called draws.
In a typical scenario, there are around 5 to 7 draws. There cannot be too many scheduled draws since the process is time consuming and associated with inspections and fees.
Sub-contractors, material suppliers, and the general contractor's employees need to get paid well before a stage of construction is completed, and that is either the responsibility of the contractor or the homeowner. There should therefore be a clear understanding with the general contractor, clearly covered in the contract, as to who pays for what and when.
In the case of Panelized, Modular, or Log Construction, lenders do advance funds for deposits, so long as arrangements are made during the approval process, as these suppliers will not even start work on the components, let alone deliver without a substantial deposit.
Insurance Requirements
There are some risks during the course of construction which lenders require protections for that are not normally included in a homeowner's policy. These include:
Course of construction casualty insurance, also known as All Risk, paid for by the owner. Under this policy, the owner is named as the insured and the lender is named as the mortgagee. Once construction is over, this turns into a standard homeowner's policy.
Workers' Compensation Insurance, required in almost all states and typically paid for by the contractor.
General Liability Insurance, paid for either by the contractor or the homeowner.
It is important to have a clear understanding with the general contractor as to who pays for what, and to have it in writing in the contract.
The Paperwork
In addition to the standard credit and income qualifications, new home construction loans require determination of value of your new home—before it exists. They do by understanding everything that will be involved in that process.
What are you building?
What materials will be used?
How much will they cost?
How much will the labor cost?
What is the land worth?
How much will the plans and permits cost?
Because all of these calculations go into the loan approval, you have to have architectural plans and a cost breakdown before you can apply for your loan.
They'll also need your contractor's license, resume, references, proof of insurance, and your signed contract. After all – their money is on the line, so if your contractor has a poor record, they won't be anxious to approve the loan.
Note that they are inspecting the contractor's financial history, not their workmanship; that's up to you, so choose carefully.
Basic documentation requirements are explained in more detail in the Documentation Requirements page.
The Down Payment
You can usually finance the lesser of 85% of the cost of construction OR the Loan to Future Values as shown below.
But first, let's define Cost of Construction. It includes:
Hard Cost = materials and labor
Soft Cost = plans,permits and inspections
Closing Costs on the loan
Contingency & Interest Reserve
Here are the Loan to Values that can be financed, for 1-4 units:
| Documented Income | Stated Income | No Income Docs |
| --- | --- | --- |
| 90% to $ 400,000 | 80% to $ 400,000 | 65% to $ 400,000 |
| 80% to $ 650,000 | 75% to $ 650,000 | 60% to $ 650,000 |
| 70% to $3,000,000 | 65% to $3,000,000 | 50% to $1,000,000 |
Example Loan Amount Calculation
The following is a typical calculation; your lender may have a slightly different approach based on their guidelines.
| Example of a Construction Loan Amount Calculation | | |
| --- | --- | --- |
| Land Purchase Price | $100,000 | or value if owned over a year |
| Soft Cost of Construction | $ 25,000 | plans, permits, etc. |
| Hard Cost of Construction | $225,000 | cost to build |
| Closing Costs | $ 13,750 | fees, title, escrow, etc. |
| Contingency Reserve | $ 11,250 | 5% of hard costs |
| Interest Reserve | $ 10,000 | to pay interest payments |
| Total Project Cost | $385,000 | |
| Future Value | $500,000 | based on appraisal |
Based on the numbers shown above, here's how a loan amount for a full documentation loan would be calculated:
Step 1: 85% of project cost => 385,000 x 85% = $327,250
Step 2: Percentage (from table) of final value => $500,000 x 80% = $400,000
Step 3: $327,250 is the Lesser of steps 1 and 2, so that's what you can finance
Step 4: $385,000 - $327,250 = $57,750 Minimum Down Payment
You can plug in your own numbers in our construction loan budget calculator to figure out your loan amount.
New Construction Appraisal
A construction loan appraisal is commonly known as a Future Value Appraisal. The appraiser uses current sales comparisons based on the architectural plans and specifications based on the line item cost breakdown work sheet that the architect and/or the contractor supplies.
Related Information