Construction Loan Center
Modular Homes
Financing Modular, Mobile or Manufactured Homes Can Get Tricky.
First you must understand the difference between all the three types, advantages, disadvantages and the financing challenges associated with each.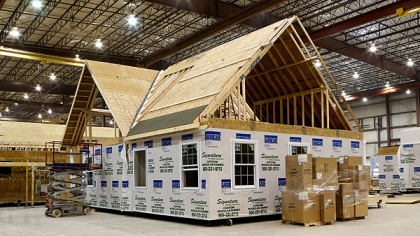 Modular Homes are built in sections, in a factory and then carried over to the building site where they are assembled on a foundation.
It is important to appreciate the difference between modular homes and a manufactured home. The two terms are sometimes used interchangeably, which can be very misleading.
By contrast to a Modular Home, a manufactured home is normally built to the Federal Construction Safety Standards Act and referred to as HUD approved. This code requires homes to be constructed on a steel frame and are typically built in box like sections and transport to the site where there are anchored to a permanent foundation.
Some communities have zoning restrictions on Manufactured Homes, so you need to check with your local authorities to find out if such restrictions apply to your community.
A further complication with manufactured homes is the fact that most lenders will not loan on them, limiting your choice of lenders. Lenders that do finance manufactured homes will require an appraisal of the property that will use other manufactured home sales in the area as comparables.
Modular Homes have no such restrictions. They are treated just like a conventional stick built home by local authorities, construction lenders and mortgage companies.
Advantages of Modular Homes
Highly engineered.
Built in a factory environment, eliminated timber warp resulting in improved fit all around.
Efficient building process and material usage saves on costs.
Energy efficient as a result of controlled building process and engineering.
Speed of construction cuts down the time frame tremendously, yielding interest savings on your construction loan.
Built to meet or exceed local standards.
Construction Loans for modular Homes
Construction Loans are first and foremost reimbursement loans. This means that the construction lender makes payments as various stages of work are carried out.
A modular home is delivered to the site in one delivery and the manufactures will typically need a substantial down payment before shipping. You must make sure that the construction lender that you are choosing will accommodate that as some lenders may not allow deposit payments or will only make a partial up front payment.