FHA 203(k) Loans: Mortgage Plus Rehabbing Costs in One Loan
HUD's (Housing and Urban Development) version of a construction loan specifically designed for rehabilitation of existing owner occupied homes, including single family, two to four units and condominiums.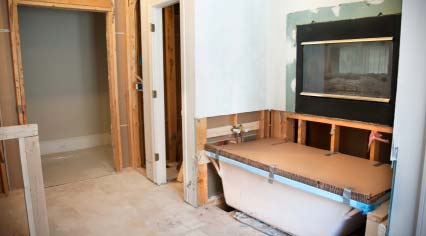 Renovating a rundown or outdated property to a higher and more modern standard is becoming more and more popular due to the availability of older housing stock, high real estate prices, and the multitude of renovation-related reality TV shows.
And the FHA 203(k) rehab loan program may be the best-kept secret in the world of residential real estate for making those renovation dreams a reality.
Loan Types
There are two types of FHA 203(k) rehab loans: Streamline and Regular.
The Streamline, as suggested by its name, is somewhat simpler in that it requires less paperwork, but it limits the renovation costs to $35,000. The regular program has no high-end maximum on the scope of the work to be done, just a low-end minimum of $5,000 in repairs. It is still subject to the maximum loan limits and to borrower qualification.
Loan Limits
FHA does not offer stated income programs; income must be documented fully and credit requirements apply, although they are somewhat more liberal than conventional loans.
203(k) loan limits are the same as standard FHA purchase and refinance loan limits, which vary from county to county. They can be as high as $636,150 in high cost areas and as little as $271,050 in low value areas for a single family home. The program is also available for two to four units with much higher limits.
The current basic standard mortgage limits for FHA loans are
Singel Family
Two Units
Three Units
Four Units
Low cost area limits
$271,050
$347,000
$419,400
$521,250
High cost area limits
$729,750
$934,200
$1,129,250
$1,403,400
Click Here for detailed, updated FHA 203(k) loan limits for your county.
Appraised Value
All mortgage loan amounts are subject to an appraised value and borrower qualification. Since the property is going to be renovated, resulting in higher after-renovation value, the appraisal report is based on a Future Value Appraisal, meaning that the appraiser prepares a report assuming that the work has been done and uses comparable homes that are similar to the post-renovation subject property.
Appraised value is the lower of the two amounts below:
As-is value of the property PLUS repair costs.
110% of Future Appraised Value.
As much as 96.7% of the determined value can be borrowed in both purchase and refinance transactions.
What It Pays For
The 203(k) loan program will finance a wide range of home repair and renovation projects, including:
Plumbing repairs or additions
Adding a new room or even a second story
Foundation repairs
New siding
Interior remodeling projects, including bathrooms and kitchens
Bathroom and kitchen fixtures and appliances
Adding a deck or patio
Landscaping projects
Installing or replacing a heating/air conditioning system
Adding new energy-efficient windows
Replacing or repairing floors
Completing needed structural work, including moderate to extensive repairs
There are some limits on what the 203(k) renovation program will pay for because the guidelines are designed to breathe new life into distressed or past-their-prime properties. Thus, anything considered a "luxury" addition, like a swimming pool, falls outside its parameters.
However, as you can see from the list above, there are plenty of improvements the program can make possible.
Cash Flow and Reserves
The funds allocated for construction or rehab are deposited into an escrow account and disbursed in stages according to a schedule established by the stages of the scope of work.
No funds are advanced for any stage of the work. On the completion of a stage of work and sign off of the work done by your city or county inspectors, you request a draw at which time another inspection is carried out by a designated inspector or your architect and only then is the reimbursement processed. This takes time.
It is important to discuss this crucial fact with your contractor/consultant. Material suppliers and subcontractors don't wait for payments and someone, either you or the contractor, has to float the cash to cover those expenses.
The final draw request will not be made until all inspections are carried out and an occupancy permit is issued.
Qualifying Guidelines
203(k) requirements and guidelines are in many ways similar to the conventional FHA loan process, although the program does entail some specialized procedures. However, most 203(k) lenders will gladly provide the services of a trained consultant who will guide you through each step, making the process as quick and painless as possible.
You will need a 3.5% down payment, which you can obtain from a friend, family member, or even a non-profit organization if you choose.
203(k) Loan Rates
Loan rates can vary from region to region, just as they do with conventional loans, but expect to pay a little higher rate than a conventional loan. Unlike conventional loans, where mortgage insurance is only required for high loan-to-value loans, FHA loans are always subject to mortgage insurance no matter what the loan-to-value is.
That means that if your equity is much higher than 3.6%, the combination of a slightly higher rate and mortgage insurance may not be the right choice for you.
Designed for Homeowners, Not Investors
We should mention that 203(k) loans are not available for those who wish to "flip" a home. While buying and selling real estate is potentially quite lucrative, this particular opportunity is not appropriate for financing such ventures. On the other hand, it's a terrific option if you want to purchase a fixer upper property to live in or renovate your current home.
Contractor Guidelines
You will need to solicit bids from licensed, qualified contractors for each task you wish to have performed on the property. Do It Yourselfers are sometimes frustrated by this provision, as the program rarely offers them the opportunity to complete the work themselves—even if they're certified in various construction-related fields. However, using a seasoned professional helps to ensure your satisfaction with the final results, and doing some additional work that is not included in the official scope of work is quite possible.
203(k) Lenders
While all FHA mortgage lenders need to meet minimum standards and be licensed in each state that they do business in, not all are well versed in the nuances of the 203(k), which is a more complex process that requires specialized knowledge, so you may need to shop around to find a lender who can help you.
The Last Word
FHA 203(k) construction loans make home ownership and improvement goals possible for millions of Americans who might otherwise never see their dreams come true. If this exciting program sounds like it could benefit you, we welcome you to contact us today for more information.