Construction Loan Center
Construction Contracts
A Construction Contract is a binding Document that Spells out What the Contractor's Obligations are and What is Expected of You.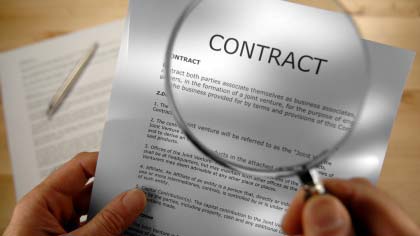 Construction loans require a good deal more paperwork than any other type of mortgage loan and a construction contract is a very important document that underwriters want to see.
It goes without saying that that you need a contract with your contractor to clearly define everyone's responsibility so that both you and the contractor are protected.
Guidelines for construction loans require a borrower to enter into a written contract with a builder/contractor. In some markets, there is no standard form and the format of the contract can vary, but certain elements must be present regardless of the format, and those elements must be acceptable to underwriting.
A Construction contract is a written agreement between the borrower and the builder for services to be provided by the builder for a stated consideration.
A proper and customary contract contains*:
A clear statement of the responsibilities each party will perform.
The date of the contract, the scheduled dates for commencement and completion of construction and the date of occupancy. An event date, rather than the actual date, is sometimes acceptable.
The amount the builder is to receive for construction of the completed home, as well as under what conditions it will be received. If the property is located in a state that charges sales tax, the contract must specify whether the amount includes state sales tax.
Itemized allowance items.
Line item cost breakdown.
A payment method that is compatible with the line item cost breakdown and the disbursement procedures of the investor.
Provisions for possible changes to plans or specifications by appropriate change orders.
Full identification of all parties and definition of all names used in the contract (contractor, owner, subcontractors and architect).
Architect's responsibility, if any.
Signatures of the borrower and contractor.
The property's numerical street address or full legal description.
*IMPORTANT
Construction Loan Center does not provide legal advice. We strongly recommend you reviewing all legal documents with your attorney.