Building a New Home in Winter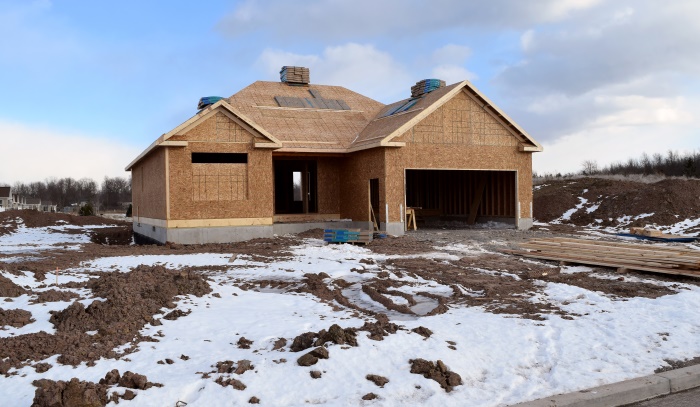 In less than three months the colder weather is upon us, many people assume that they must wait until spring to start building their new home construction project. While the warmer weather might make it more appealing for the home buyer to visit their home site, there are some real advantages to doing a winter build. With new building techniques and materials, winter builds have become more and more popular. Starting a home in November, December or January is not only a real possibility, but if this time frame is within your goals, there is no reason not to get that home construction loan and get started.
Benefits for a Winter Home Construction
There are some real advantages to starting your new construction process during the winter months.
Building Materials
Winter weather traditionally has been seen as unfavorable for home building. Home buyers visualize piles of prime lumber rotting under a blanket of snow for weeks at a time, but this is not typically the case. The reality is that lumber and building materials are usually ordered within days of use.
Weather conditions are often better in winter; that's right, better. The winter months have significantly lower humidity levels as compared to summer. Lumber is affected more by the high humidity than the cold, which makes a winter build favorable.
Working Conditions
For most people, working in exceptionally hot or cold weather seems impossible, but construction workers do it all the time. Take notice and you'll see construction takes place all year long on projects around your community. They are used to rain, snow and heat; it's just part of the job. Winter builds have one advantage also: it's far easier to build in the snow than it is in the rain.
Contractor Availability
Winter build home construction projects can take advantage of the slower season. Spring and summer months are still the most popular for building and contractors and their crews are extremely busy. This competition can cause a delay in the building start and delays during the process. Building projects might also experience a building material shortage as demand soars during the traditional building season, causing further delays. For home buyers using home construction loans, these delays can greatly increase the cost of the loan and the project overall.
Moving
No one wants to watch their movers carry their beautiful furniture through the snow and ice, dragging dirt and debris into their brand new home. Consider this, a winter build means that you will likely be moving into the home in the spring or summer, whereas if you start the build in spring or summer, you will experience that winter move-in.
Financing
Most buyers use a construction to permanent loan to finance their building project. This type of financing is really two-fold: the construction period or bridge loan and the final, take out or permanent mortgage. Both aspects are negotiated and finalized at the same time, before the building begins, saving time, closing costs and anxiety.
A home construction loan is the financing vehicle for building a home from the ground up or when doing a gut out, full blown remodeling. The lender will work with you to develop a schedule of payment which allows for purchasing of building materials and the payment to contractors and builders throughout the process. At the completion of the home, the loan is converted to a permanent mortgage, such as a 30-year fixed loan.
As with all financing, interest rates are a critical component in the cost of the home. By starting a winter build, you will obtain your final mortgage based on today's rates. Uncertainty in the market and the threat of higher interest rates in the coming year makes it desirable to take that risk out of the process. Gain peace of mind by determining your interest costs up front. If interest rates fall, you can always refinance the final mortgage just as you would any other home loan.
At first glance, the cold winter months might not seem like the ideal time to start your home building project, but it makes sense to reconsider. There are many benefits to starting your winter build. If the timing fits with your financial and personal goals, then take some cocoa to the site and watch your dream home become a reality.