Construction Loan Center
Home Remodel Loans
Construction Remodeling Loans vs. Home Equity Loans: Two Home Improvement Loan Options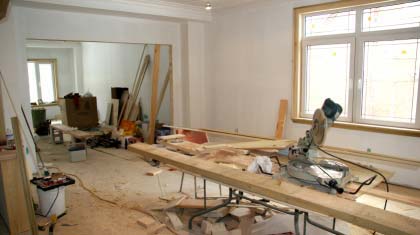 With increasing standards of living, ever higher real estate values, and neighborhood gentrification, rehabilitating or remodeling an existing home to add square footage, improve aesthetics and function, and enhance curb appeal is more popular than ever.
Strictly speaking there is no such thing as a home Improvement loan, though some lenders may use the term for branding purposes.
Home Remodeling Loans
Depending on the scope of the remodeling project and the equity in your property, two types of home improvement loans are available.
Remodeling Construction Loans: You borrow based on the post-renovation value (future value) of your home and make no payments during the remodeling period.
Home Equity Loans or Lines of Credit: You borrow based on the existing equity available in your home. The proceeds pay for the project up front and you pay the loan off over several years.
Remodeling Construction Loans
In an extensive remodeling project, which may consist of completely razing the house and rebuilding from ground up, or gutting a good part of the house and adding a substantial amount of square footage, borrowing against the existing equity will simply not be enough to fund the project.
For these types of projects, a remodeling construction loan is the only option. The loan value is based on the Future Value Appraisal of the property, so the appraiser uses the plans and specifications of the project and finds comparable recent sales in the neighborhood that are similar to your future finished home.
When you purchase or refinance, the loan amount is based on Loan-to-Value Ratio (LTV), but in a construction loan, the loan amount is based on the Future Value (LTFV) and the Loan-to-Cost ratio (LTC). Depending on the loan amount and LTFV, you can borrow up to 95% of LTC, subject to credit and income qualifications.
When your new remodeling construction loan funds, the construction lender will pay off all existing liens and keep the balance, which is then disbursed to you in stages as each phase of the project is completed and inspected both by local authorities and the lender.
Either you or the contractor will have to float the funds necessary for each stage of construction until such time as the inspections are completed and the balance is funded by the lender, so it's very important to have a clear understanding with your contractor as to who pays for what and when.
You can wrap all of the project expenses into the loan, including soft costs, hard costs, closing costs, contingency reserve, interest reserve, and final take out.
Soft Costs: architectural plans, engineering, survey, permits, school fees, etc. In other words, pretty much everything that's done on paper.
Hard Costs: the actual cost of construction, materials, and labor.
Contingency Reserve: a percentage of all costs added as to the loan amount to be used in case of cost overruns.
Interest Reserve: during construction, monthly payments are made from this reserve account (instead of your pocket!).
For more detailed information visit the Construction Loans page.
Home Equity Loans or Lines of Credit
If the home improvements you are planning are somewhat limited in scope and your current first mortgage is less than 80% of the value of your property, you can borrow against that equity in the form of a Home Equity Loan or Line of Equity.
These loans are second mortgages, and unlike first mortgages which can be payable over a 30-year period, they are normally payable in periods of 5 to 10 years.
Home Equity Loan vs. Home Equity Line: the loan is paid out in a lump and is available as a fixed or adjustable rate. A home equity line is a line of credit that you can draw against just like a credit card, and is typically only available as an adjustable rate loan.
It is important to appreciate that in both cases; these loans are based on your property's current value and have no relationship with any equity gain you may have after the work is completed.
Calculating Equity: Let's say your property is currently worth $400,000 and you owe $220,000 on your first mortgage. Dividing 400,000 by 220,000 equals 0.55, which means your current Loan to Value is (0.55 x 100) 55%.
The equity lender will lend up to 80% of Combined Loan to Value or up to a total of your first and second mortgage of $320,000. Subtracting the existing first mortgage of $200,000 will yield a net equity line of $100,000 subject to your credit and income qualifying.
If you are planning on applying for the loan well before you are ready to start your project and the project is going to take more than a month or two to complete, then a home equity line maybe a better choice since you will not be incurring additional interest expense.
In most cases, a home equity line may be converted to a fixed rate home equity loan once you have drawn the entire amount out or are not planning on drawing additional funds.