Dream to Dream Home, What Kind of a Loan Do You Need?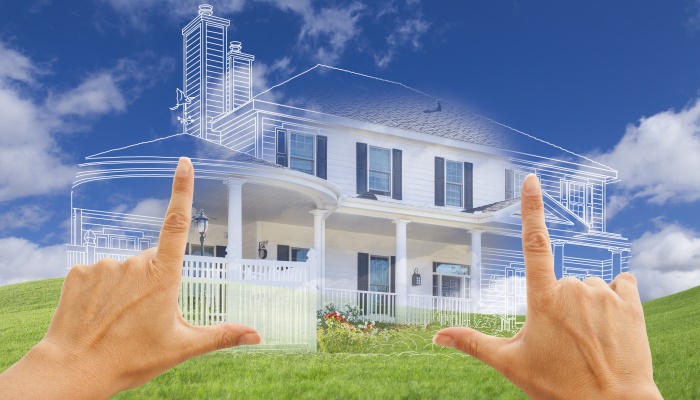 Almost everyone has dreamed of building their personal vision of "home" from scratch. It's called a "dream home" for a reason; many people simply dream about doing it, but never go through the process. While it might feel like something only the rich and famous can afford to do, that's simply not true. Building your dream home is easier than you think. In fact, financing the home building project might be the easiest part of the process.
Buying land and building your new home can be an exciting experience. Regardless of whether your perfect site is overlooking the water or nestled in the mountain trees, understanding the right kind of home construction loans you need is critical to making this dream a reality. There are two different types of loans used to buy and build a home: Lot and Land Loans and Home Construction Loans. These two types of loans are financing vehicles you can use to create your dream home and understanding the differences will help ensure the process is easy and efficient.
Story Loans
Unlike traditional mortgages for existing homes, Lot/Land Loans and Home Construction loans are loans for ideas, for a concept. Nicknamed "story loans" the lender is offering to lend based on your plans for the property. When starting with a vacant land purchase, you probably don't have architect drawings to provide because this is an expense that most buyers don't incur until after they own the property. In this case, the potential borrower can only describe their vision for the property. When approaching a lender to buy a vacant lot or parcel, the borrower must be as specific as possible in order to prove they are a good risk for the lender. Any previous experience building from scratch will help, but first time builders are also able to find good financing with a convincing story.
Lot and Land Loans
Buyers ready to invest in a piece of land who are not quite ready to build will seek a Lot or Land Loan. These loans allow you to pay for the current task, buying the land, and not incurring costs for the future home itself. When the time arrives to build on your homesite, you will then seek a Home Construction Loan to finish the project.
Terms, conditions and interest rates can vary widely in Lot and Land Loans. Higher down payments and shorter length terms are also common with these loans. Some lenders will look more favorably on lots in established subdivisions that already have utilities and roads and if the borrower can provide any kind of plans or permits, they will also be in a better position as well.
Home Construction Loans
Once you are ready to begin building your dream home, you will need to obtain a Home Construction Loan. These loans are typically used to fund custom or semi-custom homes from the ground up or major remodeling projects. Home Construction Loans are unique in that they allow for partial payments to be made during the building period. Once the project is complete, the loan then transitions to a permanent home loan with traditional terms, such as a 30-year fixed loan. These are called Construction-to-Permanent Loans or All-in-One Loans. The Home Construction Loan thus acts as the one lending instrument to both fund the building process and pay off the home over time.
Appraisal for Construction Loan
Construction Loan Appraisal is based on the Future Vale of the property and hence appropriately named Future Value Appraisal.
In a Future Value Appraisal the appraiser uses the plans and the specs of the house to compare it with recent sales of comparable properties in the area to estimate the value.
Calculating the Loan Amount
The loan amount calculation for a construction loan is not as straightforward as it is in a purchase or refinance mortgage loan, since it takes a number of variables including lot or existing property value, soft costs of construction, hard costs of construction, interest and contingency reserves.
Not all construction lenders use exactly the same formula but the Home Construction Loan Calculator and the Construction Loan Payment Calculator will help you determine your loan loan amount and payments during construction.
Builder-Owned Lots
Sometimes a home buyer will purchase the lot/land from the home builder. This is typical in custom and semi-custom home developments. In this case, depending on the agreement, the type of loan needed will vary. In many cases, the buyer can use conventional loan programs because the builder is protected in the event the buyer does not complete the sale by retaining ownership until the final product is completed.
Building your dream home is easier than you think. While the process sometimes has more bumps along the road than purchasing a resale home, the benefits of having your custom home built to your needs and wants is something you can realize with Lot and Land and Home Construction Loans. Custom homes are not just for the rich and famous any longer.