Construction to Permanent Loans for Residential Properties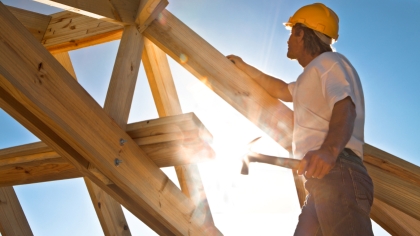 Available for New Homes, Remodeling, Lot Purchase, and Permanent Financing
These loan programs combine the construction and permanent financing of your custom home construction project. You qualify for the loan once, lock in the permanent mortgage rate, sign one set of loan documents, and have up to 12 months (or more) to complete your new home construction project.
The loan amount is based on your home's Future Value Appraisal.
The first disbursement pays off the existing lien if the loan is a refinance, or it pays for the down payment if it's a purchase transaction.
During the construction period, interest is charged only on the funds that have been disbursed, and monthly payments are applied against an interest reserve account.
When the project is completed, the permanent loan, based on the actual balance of the loan, kicks in.
Depending on whether you can fully document your income or not, you can finance up to $3,000,000 and up to 90% of the future value.
How Construction Loans Work
A "One Time Close" new home construction loan is used to finance the construction of a primary residence or a second home all in one closing, which means that you sign only one set of loan documents and do not have to worry about re-qualifying, re-appraisals, additional closing costs, or signing additional loan documents.
This loan may be used to purchase raw developed or undeveloped land for ground-up construction or to buy an existing structure to completely or partially demolish and build a new house. If you already own an existing lot or a property that's going to be demolished, you can use this loan to refinance and build the new home.
On the closing day, enough funds are disbursed to pay off the seller and closing costs in a purchase transaction or pay off existing liens and closing costs in a refinance transaction.
The remainder of the funds are disbursed based on the number of draws specified in the construction loan budget breakdown, which your general contractor supplies, and may number six draws or more.
The lender conducts an inspection at the end of each stage of construction, gets the title company to update the title report to ensure no new liens are filed, and issues a check.
It is important for you, the homeowner, to have a clear understanding with the general contractor as to who pays for what during construction before the lender's reimbursements.
The key here is the fact that draws are not paid in advance, but rather as reimbursements after inspections by both the municipal authorities and the lender's inspector following each stage, which means the contractor must have enough resources to float the costs during that period. Otherwise, the process is interrupted, which causes misunderstandings, arguments, and delays—which will in turn cause cost overruns.
How to Apply for a Construction Loan
Unlike a purchase transaction on an existing home, in addition to the standard credit and income package, new home construction loans involve determining the value of something that does not yet exist. The following information assists the appraiser and the lender in determining the value of the finished home:
What is going to be built?
What materials are going to be used?
How much will the material cost?
How much is the actual work going to cost?
How much did the land cost, and what is it worth today?
How much will be spent on plans and permits?
In particular, lenders will almost always hold the final 10% of the total cost until final inspections are carried out and the municipality has issued a final occupancy permit, which can be a longer process than the inspections during construction.
Assuming that you already own the lot that you are going to build on, or you at least have it under a long enough contract to complete the process if you are planning on wrapping the purchase, construction, and take-out all in one, you will need the architectural plans and cost breakdown before you can apply for a construction loan.
The construction lender typically needs additional documentation that you provide before the final approval of the loan, which includes the final permit issued by the appropriate municipality and details of the construction contract and the contractor.
These details include your contractor's license, resume, references, workman's compensation insurance, liability insurance, and a signed contract based on a final line-item cost breakdown. Most lenders also require a credit and reference check on the contractor.
It is important to appreciate that while lenders do their due diligence on your contractor's financial performance, they do not accept any responsibly for his/her work performance, so choose wisely.
Basic documentation requirements are explained in more detail in the Documentation Requirements page.
How Much Down Payment is Required for a Construction to Permanent Loan
You can typically finance the lesser of 85% of the cost of construction OR up to the following Loan to Values as shown in the table below, depending on the income documentation that you supply.
Cost of construction is defined as follows:
Hard cost of construction – materials, labor, …
Soft cost of construction – permits, inspections, …
Closing costs.
Contingency and interest reserve.
Residential Construction to Permanent Loans for 1-4 units
| Documented Income | Stated Income | No Income Docs |
| --- | --- | --- |
| 90% to $ 400,000 | 80% to $ 400,000 | 65% to $ 400,000 |
| 80% to $ 650,000 | 75% to $ 650,000 | 60% to $ 650,000 |
| 70% to $3,000,000 | 65% to $3,000,000 | 50% to $1,000,000 |
Cost of construction is defined as follows:
Hard cost of construction
Soft cost of construction
Closing costs
Contingency and interest reserve
Example of a Loan Amount Calculation
The following is a typical calculation; your lender may have a slightly different approach based on their guidelines.
| Example of a Construction Loan Amount Calculation | | |
| --- | --- | --- |
| Land Purchase Price | $100,000 | or value if owned over a year |
| Soft Cost of Construction | $ 25,000 | plans, permits, etc. |
| Hard Cost of Construction | $225,000 | cost to build |
| Closing Costs | $ 13,750 | fees, title, escrow, etc. |
| Contingency Reserve | $ 11,250 | 5% of hard costs |
| Interest Reserve | $ 10,000 | to pay interest payments |
| Total Project Cost | $385,000 | |
| Future Value | $500,000 | based on appraisal |
Based on the above project, the following is an example of how to calculate the loan amount for a Fully Documented Loan.
Step 1: 85% of project cost => 385,000 x 85% = $327,250
Step 2: Percentage (from table) of final value => $500,000 x 80% = $400,000
Step 3: $327,250 is the Lesser of steps 1 and 2, so that's what you can finance
Step 4: $385,000 - $327,250 = $57,750 Minimum Down Payment
Use this construction loan calculator to figure out your loan amount.
New Construction Appraisal
A construction loan appraisal is commonly known as a Future Value Appraisal. The appraiser uses current sales comparisons based on the architectural plans and specifications based on the line item cost breakdown work sheet that the architect and/or the contractor supplies.
Related Information