Moving Through Home Construction Step-by-Step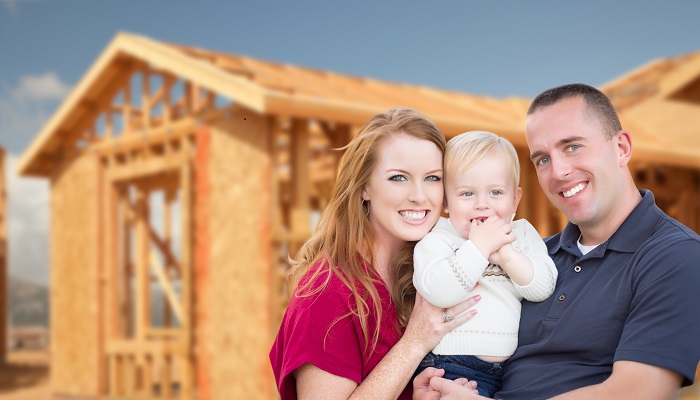 Most people have dreamed of the perfect home they design and build from the ground up. These dream homes vary from the classic New England Salt Box to a sleek Mid-Century Modern beach home, but they all share a common theme….they are customized to suit the owner's unique tastes. These custom residences also range from a stately manor on a large estate to the humble mountain cabin.
Building from scratch has become more and more popular over the past 5 years. Reality TV shows which feature a typical home buyer turning a run-down foreclosure into a modern marvel with a mere weekend and hammer, has created a huge interest in renovation and building projects. Investors are seeing good returns as well. Flipping houses once reserved for the very experienced investor is now more commonplace and accessible to a larger market.
Metropolitan areas are taking advantage of this trend as well. With limited vacant, buildable land available, some cities are seeing entire blocks leveled and rebuilt. This newly created vacant land can be used for building tracts or sold to individuals in custom home developments.
With so many options available in the custom home market, why are these homes considered an option only for the rich and famous? The truth is that almost anyone can afford to build a custom home by understanding the world of construction loans and how they fit into the steps necessary to build a home from scratch. By following a logical timeline, most anyone can create a dream home of their own.
Do Your Research
With any big project, planning can mean the difference between success and failure. The first step in building your dream home is to consider carefully what your goals are for the property.
Where do you want to live
How large a home do you want/need
What style home suits you, including building materials
Do you want a view? Property? Pool?
Anything that you would add to a wish list when looking for a resale home should also go into your research for the dream home project. It's important to determine the possibility of building the home you want and in a community which suits your lifestyle. You may or may not be able to find land in the right location and this has to be considered before you start any serious planning.
Consider Your Budget
A home building budget is absolutely critical to success. Now is the time to really think about how much you can afford to spend for your dream home. Most likely you'll need a construction loan to finance the building and a final mortgage once it's finished. You also need to consider the cost of living elsewhere while the home is built and costs for additions, changes or delays that could occur during the process. By accounting for unexpected costs up front you will ensure a smoother construction period.
Build Your Team
Now is the time to find the right team to design, build and manage the project. You will need an architect, builder and contractor at a minimum. These will be the key players in bringing the project to life. Each will be involved in the selection of the lot, design of the structure and final construction.
It's important to choose your team early and carefully, even before you find the lot. They can offer insight into the land's potential, strengths and challenges and save time and money by reducing the chance of a poor lot choice.
Design The Home
Once you've assembled your team, it's time for the fun part, designing the home. This process can be as simple as choosing stock plans from a catalog to a fully custom home drafted with an architect. Even the stock plans could involve adjustments based on lot specifications, city ordinances and personal style.
Obtain A Construction Loan
A construction loan to permanent loan is a great solution which allows you to finance the building of your home and a long term permanent mortgage. The loan consists of two parts: the construction phase and the permanent mortgage. Once you set your budget, it is time to calculate the loan amount to start researching your construction loan options.
Qualifying for a construction loan is more complex than a simple mortgage. Calculating the construction loan amount is a lot more involved too. For one thing, not only does the borrower need to qualify, but the project and builder must as well. You must work with a qualified builder that is licensed and insured as a general contractor.
These loans will normally require a larger down payment, 20% typically, and the lender will require the borrower to have cash-on-hand reserves to use in the event of unexpected costs or delays.
Once the construction project is completed, the construction loan will become a permanent mortgage. During the building phase, the borrower will make interest-only payments with the permanent loan being the traditional 30 year fixed.
Put It All in Writing
Now that you're ready to break ground, it's time to get your contracts signed. All members of the team should have a contract which outlines their responsibilities and dispute resolution procedures. The contracts should address:
Scope of work
Identify the materials to be used for each aspect of the project
Liability and responsibilities
Deadlines
Itemized Expenses
Payment schedule and the performance standard to be used in evaluations.
Final Inspection requirements.
Construction site protocols.
Local permits and codes and who is responsible for obtaining theme.
Creating a custom home is an exciting idea. Both first time home buyers and seasoned homeowners ready to move-up will benefit from understanding the process of building a custom home from the ground up. Both fresh construction and renovation projects are possible with the proper use of construction loans. Learning the steps required to successfully navigate the construction period will ensure that the custom home you're dreaming of becomes a reality.