7 Signs Your Contractor is a Fraud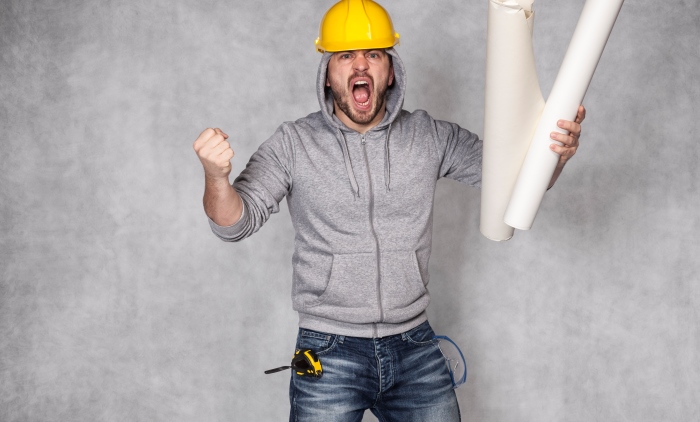 Contractor fraud is serious business. At the end of the day, it can cost you up to twice as much as you would have originally spent to renovate or build your home. Not only do you lose the money paid to this fly-by-night company, you also have to pay a legitimate contractor to fix the damage. Plus, there is the emotional toll of being scammed and having to go through the process of trying to recover the money.
While consumer organizations, such as the state-wide Department of Consumer Affairs and the Better Business Bureau have made the home repair and building scams harder to commit, it hasn't been able to stop it. In fact, according to recent statistics, the number of consumer complaints filed against home construction and renovation contractors has been rising across the nation.
While some fraudulent contractors are harder to spot than others, they will usually give themselves away to those who are paying attention. Here are five signs of contractor fraud that will typically show up right away. If any of these factors are present in your initial dealings with a prospective contractor, then take them as a warning to stay away or at least proceed with extreme caution.

1. The contractor is reluctant to give out a list of references or discuss the details of previous projects.
Your contractor won't give you list of previous clients, or you can't verify any of the contractor's references that are provided, and no one seems to have heard of the company. An online search doesn't turn up much, either. It's best to stay away.
Just about the most important reference to check is the contractor's license, liability insurance, and bond. Pretty much every state has a website where the contractor's license can be checked for good standing and complaints filed.
Also, be aware that just because you can't find anything negative about a company online, it doesn't mean it is a positive thing. There are ways to bury negative content, such as bad press and reviews so that they won't show up so easily in online searches.
2. The contractor doesn't think your project needs permits.
Unless you are putting up a simple swing set in the backyard, you are going to need permits for almost everything else. Inspectors are not a pain in the neck, they are your friend, they are the ones who make sure that the building code is followed and that every stage of the work is done in a workmanlike manner.
What's more is the fact that an addition done without permits will never add value to your property and may cause problems when selling the home.
3. The contractor doesn't want to give a line item cost breakdown and a list of materials.
Every project needs a cost breakdown; even a simple addition must be broken down to demolition, foundation, framing, rough electrical, rough plumbing, and drywall and so on and so forth to final inspection.
Without a materials list, you may be very disappointed to find out that the nice vanity, sink or faucets that you had in mind is now going to cost more because the contractor claims he based his estimate on contractor grade fixtures.
Armed with a cost breakdown and a materials list you will be able to make timely payments for work completed that has passed inspection and the deposit for the next stage.
4. The contractor asks for a significant upfront payment.
While a small down payment is often required for certain renovation and home building work, by law your contractor cannot ask you for more money than is allowed by the state government. Usually, that amount is around 10%. So if your contractor asks you to pay for work that hasn't yet been completed or for materials that are yet to arrive and the amount requested is more than 10% of the total estimated cost of the project, then beware.
Clearly drawn up cost breakdown and materials list will be a good guarantee that there are not going to be any arguments about payments.
Keep in mind, if you will need outside financing for the project, then lenders of construction loans offer payment to contractors only when certain milestones are met, and these milestones are clearly spelled out in the cost breakdown and the contract.
5. The contractor tries to push unwanted project extras.
If you are being nudged to pay for work or products that you don't want, then it could be a sign that something is off. When it comes to renovation and construction work, there is a fine line between offering expert advice and recommendations on one hand and trying to force a certain outcome on the other. The best contractors are good listeners.
6. The contractor offers you a deep discount.
An incredible discount can be incredibly irresistible- especially of your resources are limited. But don't let this blind you. In the construction industry, there is rarely a good bargain basement alternative to a time-consuming, material laden, and labor-intensive project. While it may be true that some products have cheaper alternatives, it usually comes at the expense of quality. As the old saying goes; you get what you pay for.
7. You have a bad feeling about the contractor.
If the person speaking to you doesn't make eye contact, avoids answering your questions, or offers unclear and uncommitted responses, then trust your gut and take your business elsewhere. If something doesn't feel right about the company, then it probably isn't.
Bottom line: if a contractor comes to you and makes an offer that seems too good to be true or tries to pressure you into paying more than you should, yet can give you nothing to back up their claims of why you should listen, then walk away. There are plenty of good, professional contractors out there who would love to have your business.