FHA 203(k) – Home Construction, Rehab Loan
The FHA 203(k) is The Department of Housing and Urban Development's (HUD) version of a construction loan specifically designed for rehabilitation (rehab) or remodeling of existing owner occupied homes, including single family and two to four units and condominiums.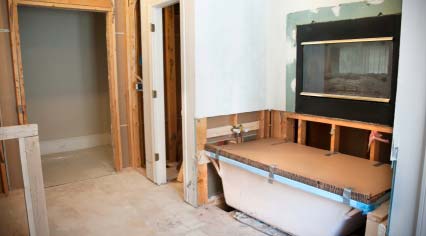 This program had lost its appeal in the recent years due to completion with most all major lenders who were offering aggressive construction loan programs or HELOC's. However the recent credit crunch combined with the increase in loan limits and the low FHA down payment requirements has made this program very appealing.
Calculating the actual loan amount for an FHA 203(k) construction loan program is quite complex but suffice it to say that the program can be used for both purchase and rehab of an existing property or refinancing and rehabbing an existing home. In either case the owner's equity (or the down payment, if purchase) can be as little as 3%
Just like a regular construction loan the FHA 203(k) is based on the future value of the property, though there are some reasonable limitations to the scope of the work which does not allow for pure luxury items such as a tennis court.
Eligible Properties for FHA 203(k) construction loans
What makes this program unique as compared with conventional construction loans programs is the fact that it not only applies to single family through 4 unit dwellings but also to condominiums.
One of the best features of a 203 (k) construction loan is the fact that zoning rules allowing the loan can be used to purchase or refinance a single family home and turn it into a 2-4 unit owner occupied property.
Qualifying for a 203(k)
These loans are strictly full documentation loans. No stated income version exists and the best way to find out the loan amount limitation is to visit the link provided at the bottom of the general table as loan limits can vary from county to county.
The current basic standard mortgage limits for FHA loans are
FHA Forward
$271,050
$347,000
$419,400
$521,250
High cost area limits
FHA Forward
$729,750
$934,200
$1,129,250
$1,403,400
For detailed, updated FHA 203(k) loan limits click here
Construction Loan Calculation.
How to do a construction loan budget.
The first critical steps that will help you determine the construction loan amount.