Construction Loan Center
Builder Construction Loans
Speculative Construction Loan (Spec).
Construction loans offered to professional homebuilders, contractors and developers.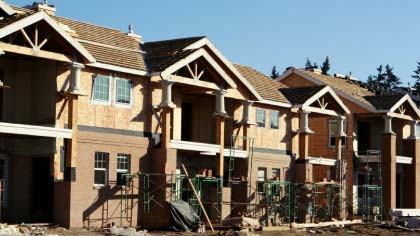 Get your next project off the ground.
Contractors, builders and developers who are building a home without a guaranteed sale upon completion are said to be building on "Spec", which is short for "Speculation." These individuals and companies are speculating that's they will earn a profit when sell the newly constructed home.
We Can:
Financing up to 90% of total project costs
Loans up to 80% Loan To Value Ratio
Loans to $1,500,000.
Interest reserve for up to 18 months.
Up to 4 loans to same Builder within the same subdivision, market or neighborhood
Lot draws up to 60% of land value.
Land equity and pre-paid costs can be used as down payment.
No Debt to Income ratio calculated.
Will close in Corporation, Partnership and Limited Liability Company's name with personal guarantees by principal(s).
Can combine construction and lot loans at time of purchase.
What it takes:
Single Family Residence are eligible only.
10% post-closing liquidity of the total loan amount.
Minimum "Gross Profit Margin" of 15%.
Full documentation only. Stated income loans are not available for this program.
Builders with 5+ years experience in the building/marketing of residential SFR's are acceptable as GC's.
680 middle credit score.
Owner's experience is preferred but not necessary.
Questions? Call us Toll Free or Send an Email, with any questions or concerns that you may have. Visit Our State Specific Contact Page, where you can find our phone numbers to call us, contact us by email or complete our short, secure application form.
Stated Income Construction Loans
Can't document your income?
We offer a whole range of no income documentation construction loans. Programs include stated income, limited doc, no doc and no income. Our consultants will help you pick the right one for you